Like Hiking? We have Mountains, Rivers, Desert & Coffee!
Big Bend is a hiker's paradise containing the largest expanse of roadless public lands in Texas. More than 150 miles of trails offer opportunities for day hikes or backpacking trips. First, head on over to Tumbleweed Laundry at 20 N Austin St, Marfa, TX 79843 and pick up some
Big Bend Coffee Roasters Coffee
.
Be Aware that elevations range from 1,800 feet along the Rio Grande to 7,832 feet on Emory Peak in the Chisos Mountains. Elevation changes produce an exception variety of plants, animals, and scenic vistas. Generally, hikers can expect a 20°F temperature difference between low and high elevation hiking areas. To protect the solitude and serenity of Big Bend's trails, groups larger than 25 persons must split into smaller groups.
Desert trails range from short, easy nature walks to multi-day treks marked only by rock cairns, if at all. Remote routes provide a wilderness adventure for experienced hikers where silence and solitude are key protected resources.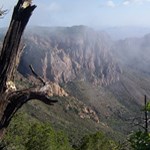 Rising 7832′ in elevation, the Chisos Mountains preserve a relict forest of oaks, pines, junipers, madrones, and Arizona cypress. There are about twenty miles of trails within the Chisos with excellent year-round hiking opportunities.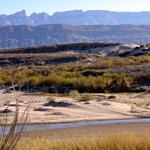 Dense stands of reeds and mesquite thickets line the river along much of the park boundary making human access difficult, but providing excellent habitat for wildlife. The best way to enjoy this area is from the river itself, but several short hikes provide access into river canyons or elsewhere along its banks.